Why Is My Car Overheating?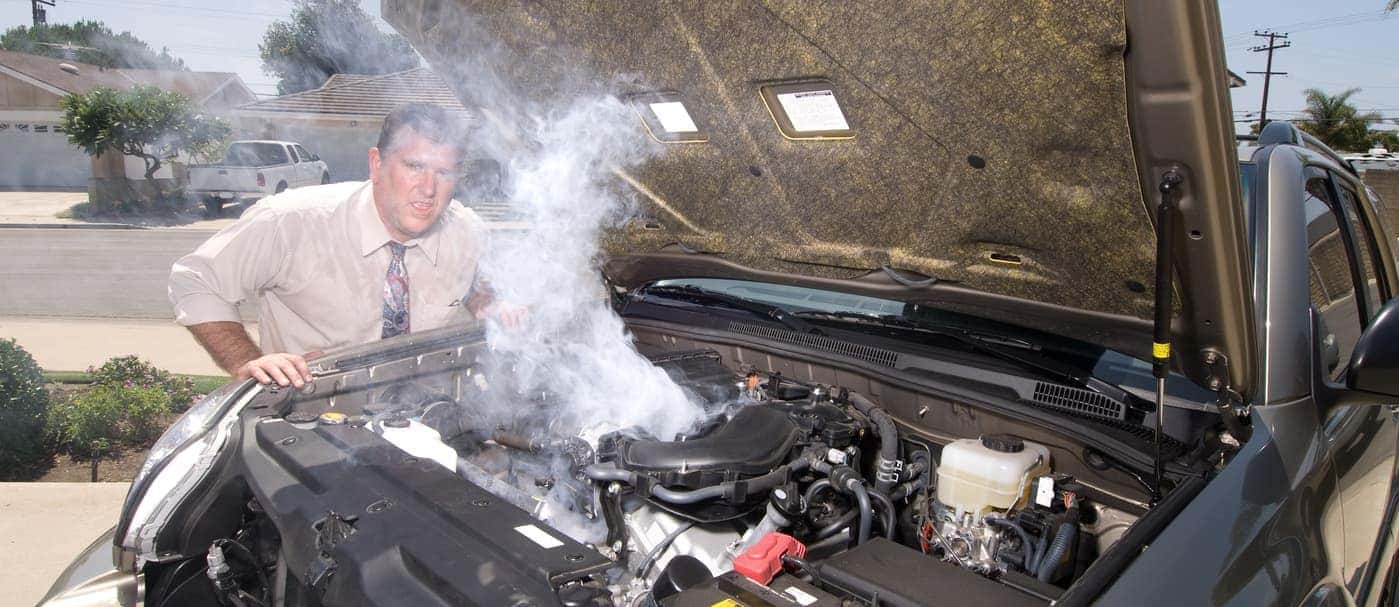 Most cars have a normal engine temperature between 195°F and 200°F, but check your owner's manual more specific information on your model. The engine can overheat for a number of reasons–whether there is a coolant leak, an issue with the radiator, or something else. To see whether you have an overheated engine, check your vehicle's temperature gauge on the instrument panel. If the needle is getting close to the red section of the dial, it may be time to drive to your local authorized service center. Learn what causes a car to overheat with Tulley Mazda below, and contact us if you have any questions in the Hudson area.
---
What Does It Mean When Your Car Overheats?
When you have an overheated engine, that may mean there is a bigger issue to take care of. Here are the most common reasons a car would overheat:
A leak in the cooling system – Most often, a leak in the cooling system is what's causing your car to overheat. The radiator, hoses, water pump, head gasket, and thermostat housing are all components of the cooling system, and all can be susceptible to leaks.
A problem with the coolant itself – If the wrong coolant was put in your car, or you have an improper coolant-to-water ratio (50/50 is proper), your engine may be prone to overheating.
Blockage in the coolant hose – The next possible culprit is the coolant hose. There are plenty of opportunities for dirt and debris to get in your cooling system, which can cause blockages in the coolant hose.
Broken water pump – The water pump sends engine coolant throughout the cooling system. Yours may be suffering from a leak or a shifted pump shaft, both of which often cause overheating.
Issue with the radiator – Radiator issues are another common reason a car would overheat. There could be a blockage, a leak, or something wrong with the radiator fan, and all could cause a car to overheat.
What to Do When a Car Overheats
If you start your car and notice the temperature gauge is reading far higher than normal:
Do not drive the car. Driving an overheating car can put you in danger, and it will only cause bigger, costlier issues down the road.
If you have a roadside assistance service like AAA, or roadside assistance part of your vehicle warranty, get your car to a service center as soon as possible.
If your engine overheats after you've already started driving around Merrimack:
Assess if you are able to safely pull over to the side of the road.
If you cannot pull over right away, make sure the air conditioning is turned it off and run your heat at full blast, which help pull heat off your engine.
Once pulled over, wait at least 30 minutes before popping the hood. Once the engine cools fully, then it will be safe to pop the hood and take a look, or simply have it towed to the nearest service center.
Rely on Tulley Mazda for Your Service Needs
Keeping up with routine maintenance allows you to catch any issues that could cause overheating and act preemptively. Schedule your next service with us, and be sure to take advantage of our applicable service coupons. You can also rely on our experts for service tips and tricks like how to check your engine oil, information on the Mazda CX-30 specs, compare the Mazda CX-9 vs. Honda Pilot, learn about the Mazda3 tire sizes, how to sanitize your Mazda, where to find the best haunted houses in New England, and more, so you can be better prepared on Lowell roads!
More from Tulley Mazda
The Mazda CX-5 is a popular pick among Hudson drivers, and it's not hard to see why. What can be a challenge is narrowing down your search to find the configuration best suited to your driving needs and budget. That is why the team at Tulley Mazda has put together this Mazda CX-5 trim comparison….

Mazda gas mileage often leads the pack thanks to efficient options across the lineup like the Mazda3 sedan and hatchback. The 2021 Mazda3 gas mileage definitely does not disappoint no matter which configuration you prefer. Learn more about the Mazda3 gas mileage for each trim below to find your perfect match for Hudson roads. Then…

When shopping for the perfect family vehicle around Hudson, you need a vehicle that has ample space for both passengers and cargo. Fortunately, the Mazda CX-5 has just what you're looking for — at a great price, no less. The 2021 Mazda CX-5 dimensions reveal a crossover that doesn't sacrifice space for occupants or your…