How to Install a Car Battery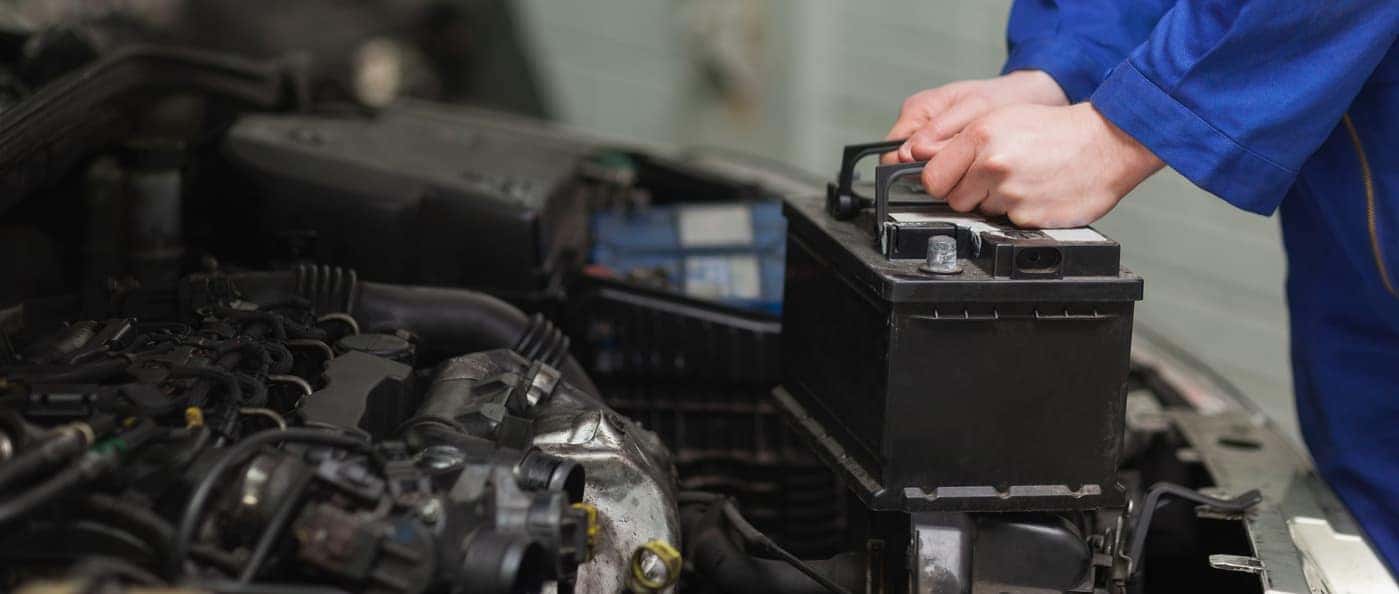 While car battery installation might seem like an easy process, there are a few steps you'll need to take to do it safely. First, make sure you have the proper tools and parts. You'll also want to wear thick rubber gloves to protect your hands. Lastly, always take care when moving the battery to avoid spilling battery acid. If you're having trouble, reach out to Tulley Mazda for car battery installation near Merrimack. Read on for a step-by-step guide on how to install a car battery.
---
Car Battery Installation Tools
Before changing your car battery, make sure you have the right tools for the job:
Wrenches
Battery Cleaning Solution
A New Battery
Wire Brush
Pliers
Anti-corrosion Spray
Remember to protect your hands by wearing gloves. Always remove the battery carefully to avoid spilling battery acid. If you need more guidance or would prefer that one of our service technicians install your car battery, our service department is prepared to help.
How To Install A Car Battery: Step-By-Step
Turn off your engine and wait for it to cool.
Activate the parking brake.
Locate the battery under the hood.
Use a wrench to loosen the nut that connects to the negative cable (black cable.)
Twist to pull the black cable off. Do not use any tools to force the wire off. Any tools can damage the battery.
Locate the positive cable (red cable) and follow the same steps as you did for the black cable.
Use the battery hold-down clamp to prevent the battery from moving. Loosen the battery with care.
Use both hands to remove the existing battery steadily. Take your time, moving too quickly, or dropping the battery can cause battery acid to leak.
Use a battery cleaning product or baking soda to remove any corrosion in the tray or hold-down clamp.
Clean off the battery cables with a wire brush and the same product used to clean the corrosion.
Place the new battery in the battery tray and tighten the hold-down clamp.
If you have it, spray anti-corrosion solutions in both the negative and positive terminals to extend your new battery life. Be sure to spray before connecting the battery.
Attach the battery cables to the matching negative and positive terminals. Connect the red first and then the black wire.
Make sure that the connections are secure. Try and gently wiggle the battery to make sure it does not move.
Start the car.
If you run into any issues while installing a car battery, reach out to us and our Mazda service center team will assist.
Install Your Next Car Battery at Tulley Mazda
At Tulley Mazda, we're more than happy to serve the Merrimack area and beyond for all your auto repair and maintenance needs. If you're in need of a car battery installation, book a service appointment with us. Be sure to check out our service specials before you have your vehicle serviced for maximum savings! We are here to help with all of your automotive needs, like how to unlock a steering wheel.
Schedule an Appointment with our Service Team